Overview
At Seguin Brewing Company we use a combination of old and new brewing techniques to bring you a delicious handcrafted beer. Drink local. Drink craft.
Hours
Tues-Fri: 3:00 PM - 9:00 PM taproom, 4:30 PM - 8 kitchen; Friday: 3-10 taproom, 4:30-9 kitchen; Sat: 11:30 AM - 10:00 PM taproom, 11:30 AM-9:00 PM kitchen; Sun: 11:30 AM - 8:00 PM
Dining Options
Details
Bar & Grill
Pizza
Counter Service
Takeout
Amenities
Amenities
Accessible
Family Friendly
Pet Friendly
Smoke Free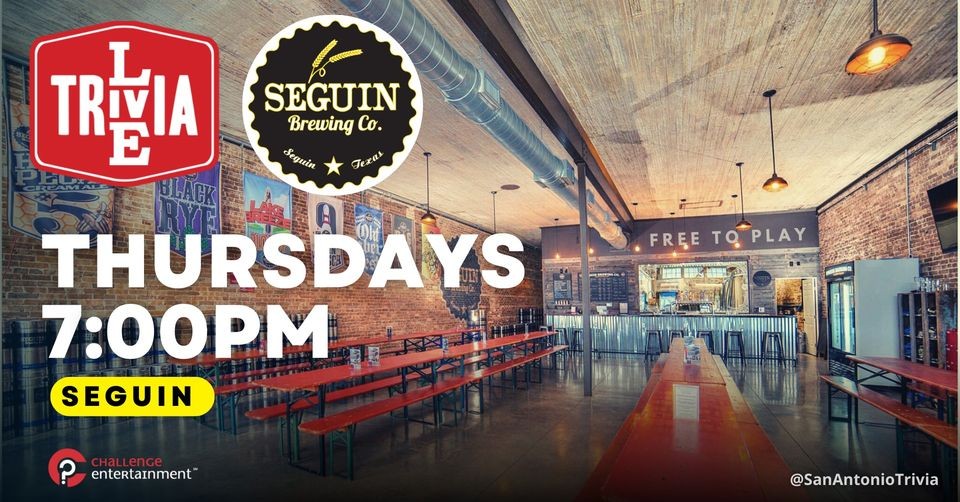 Free Live Trivia at Seguin Brewing Co.111 W Gonzales Street
Seguin, Texas

Seguin Brewing Company 111 West Gonzales Street Seguin, Texas 78155
Pecan Approved
Assuming by now you have heard a little about Seguin's obsession and deep-rooted history with pecans. To say the least…
REAL Unique Meetings
Meetings today are taking a whole new spin when selecting their venues. No longer are we satisfied in the same…
Staycation in Downtown Seguin
With school starting back up, families may want to squeeze in one last vacation before settling in for the year.